Prestigious Scholarship Recipients
Throughout the years, students in UAF French Program continuously win prestigious, competitive scholarships. Just since 2010, twenty-nine French students have won such awards:
Yimin (Bella) Fan
Amrit Chalsa-Petersen
Ayla O'Scanner
Lakeidra Chavis
Patrick Khavel
Paulette Mordini
Lauren Booker
Ross MacDougall
Ian MacDougall
Sara Mustard
Megan Taube
Kathryn Timm
Melanie Wartham
Viviana Caceres
Marcel Soubkovsky
Hannah Bayless
Jenna Billington
Hannah Carlile
Makenzie Demmert
Gunner Keiser
Shania Perkins
Michelle Risse
Hannah Garrish
Myzah Tuiletufuga
Abigail Steffen
Katelyn Bushnell
Lizzy Mann
Chelsea Brown
Thomas Newman
Additionally, from 2010-18, forty-nine students have gone abroad to French speaking countries.
Six of them have gone more than once and to more than one country, further enriching their perspective of the Francophone world. All of our students come back completely fluent in French.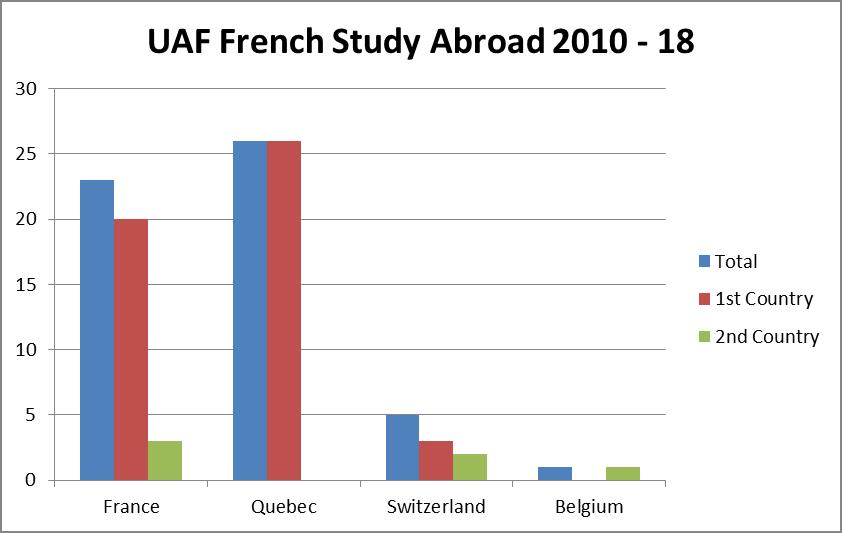 1. Yimin Fan (France)
2. Maureen Heftinger (France)
3. Michelle Risse (Quebec and France)
4. Sheila Swanberg (Quebec)
5. Claire Ashmead (France)
6. Ayla O'Scannell (Quebec)
7. Shaun Nesheim (Switzerland)
8. Ashley Paris (France)
9. Daniela Wilner (France)
10. Harlee Stuart (France)
11. Lakeidra Chavis (Quebec)
12. Sean Clark (France)
13. Patrick Khavel (Quebec)
14. Paulette Martini (Quebec)
15. Samai Munoz (France)
16. Lauren Booker (Switzerland)
17. Ross MacDougall (Quebec)
18. Ian MacDougall (Quebec)
19. Tyson Hansen (France)
20. Maggie Smith (France)
21. Tabitha Rogers (France)
22. Sara Mustard (Quebec)
23. Jon Quinones (France)
24. Michelle Rosser (France)
25. Megan Taube (Quebec)
26. Kathryn Timm (Quebec and Belgium)
27. Lisa Perrault (France)
28. Deborah Tilthworth (France)
29. Melanie Wartham (Quebec)
30. Alyssa Quintyne (France)
31. Sophia Walling-Bell (France and Switzerland)
32. Hannah Carlile (Quebec and France)
33. Makenzie Demmert (Quebec)
34. Gunner Keiser (Quebec)
35. Shania Perkins (France)
36. Solomon Shindler (France)
37. Emily Lucas (Quebec)
38. Hannah Bayless da Costa (Quebec)
39. Jenna Billington (Quebec)
40. Hannah Garrish (Quebec and Switzerland)
41. Marcel Soubkovsky (France)
42. Viviana Caceres (Quebec)
43. Myzah Tuiletufuga (Quebec)
44. Abigail Steffen (Quebec and France)
45. Katelyn Bushnell (Quebec and France)
46. Lizzy Mann (Quebec)
47. Chelsea Brown (Quebec)
48. Jordan Bennett (Quebec)
49. Thomas Newman (Switzerland)